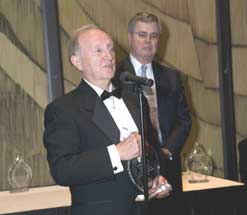 The Hall of Fame was established in 2005 to recognize those technical papers, presented in the early years of OTC, that provided the industry with innovation, vision, direction and lasting impact on the design, construction or installation of the offshore infrastructure. This award is in recognition of Dr. Yura's outstanding work published in OTC Paper 3690-
Ultimate Capacity Equations for Tubular Joints.
The names, authors and brief abstracts of the 2008 OTC Hall of Fame papers may be viewed at COPRI (Coasts, Oceans, Ports and Rivers Institute).