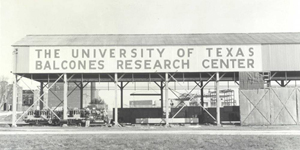 Today's Ferguson Structural Engineering Laboratory has evolved from nearly six decades of research activities by faculty, students, and staff. The laboratory is known around the world for the diversity of the structural engineering research and was recognized by the American Concrete Institute with the Charles S. Whitney Award in 1980 for "its contributions through research to the solution of many problems relating to design and construction of reinforced and prestressed concrete buildings and bridges."
 The current facilities at FSEL can be attributed to the vision of the faculty members in the Department of Civil Engineering:
 J. Neils Thompson played an instrumental role in  acquiring the magnesium plant property in north Austin for the University of Texas shortly after World War II. This property is now known as the Pickle Research Campus. Professor Thompson served as the director of the Balcones Research Center, as it was known until 1994, and helped establish more than twenty research laboratories on the site. He also served as the initial director of the Civil Engineering Structures Research Laboratory until 1963.
Phil M. Ferguson served as chairman of the Department of Civil Engineering from 1943 to 1957. Professor Ferguson was also responsible for conducting the first large-scale tests of reinforced concrete structural components at the Balcones Research Center. During his illustrious career, he conducted fundamental research in the area of structural concrete and translated those results into comprehensive design recommendations.
Since those beginnings, the laboratory facilities have undergone steady  improvement to expand the range and volume of research that can be performed. Dr. A. Anthony Toprac developed the largest fatigue testing facility in the US in the early 1960's and in the 1970's Dr. James Jirsa added the world's first large-scale, three-dimensional testing facility. High-temperature and fatigue testing facilities were added in the 2000s by Dr. Karl H. Frank and Dr. Michael D. Engelhardt. All of these facilities are used by researchers at FSEL today.
In recognition of Professor Ferguson's numerous contributions to civil engineering education and extensive research activities related to structural concrete, the laboratory was named in his honor in 1979.