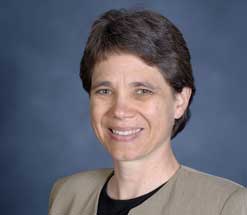 By Daniel J. Vargas
AUSTIN, Texas - Sharon L. Wood has been appointed chair of the Department of Civil, Architectural and Environmental Engineering in the Cockrell School of Engineering.
Wood, a structural engineer, will assume her new role Oct. 20. She replaces Gerald E. Speitel Jr., who was named the Cockrell School's associate dean for academic affairs earlier this semester.
Dean Gregory L. Fenves said Wood brings to the department an outstanding research record, excellent teaching, and strong service to the university and to the engineering profession.
"The department has benefited from visionary chairs in the past, and we can look forward to Sharon continuing this tradition," Fenves said.
Wood's administrative experience includes directing the Cockrell School's prestigious Phil M. Ferguson Structural Engineering Laboratory, one of the nation's leading research centers in the large-scale study of the behavior of bridges, buildings, and structural components.
Her research interests include developing passive sensors to monitor the condition of civil infrastructure systems, investigating the fatigue response of cable-stayed and pre-stressed concrete bridges, and improving the seismic response of reinforced concrete buildings.
Wood said her department will play a crucial role in solving problems in two of the three areas that Fenves has identified as presenting critical global issues: energy and sustainability. With more than 50 percent of the world's population living in urban areas, civil, architectural and environmental engineers will be challenged to create sustainable mega-cities.
"When you have such heavily populated cities, you have to deal with infrastructure, transportation, clean water and clean air concerns, and we have very talented faculty with broad interests working on these issues," Wood said. "I believe this department can make a significant contribution to engineering a society that is more energy-efficient and sustainable."
Wood joined the Cockrell School faculty in 1996 and is the Robert L. Parker, Sr. Centennial Professor in Engineering. Prior to that, she served on the civil engineering faculty at the University of Illinois at Urbana-Champaign for 10 years. Wood is a fellow of the American Concrete Institute and received the Henry L. Kennedy Award in 2006 for outstanding technical and administrative contributions to the Institute.
She will become the first woman to chair an engineering department at the university.