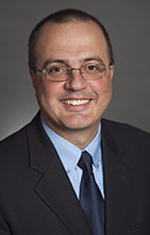 Oguzhan Bayrak, Professor
A paper titled Strut-and-Tie Model Design Provisions, co-authored by Oguzhan Bayrak and his former Ph.D. students, Robin Tuchscherer and David Birrcher, was selected to receive the 2011 George D. Nasser Award from the Precast/Prestressed Concrete Institute (PCI). This award recognizes the paper published in the PCI Journal that is most "worthy of special commendation for its merit on the design, research, production, or construction of precast/prestressed concrete structures."

The award will be presented at the 57th Annual PCI Convention in Salt Lake City on October 23, 2011.
Bayrak is the Charles Elmer Rowe Fellow in Engineering, and current Director of FSEL. Dr. Tuchscherer is an Assistant Professor at Northern Arizona University, and Dr. Birrcher is a bridge designer in San Diego.