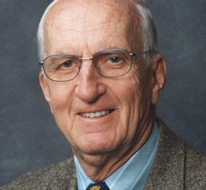 John Breen, Professor Emeritus
Distinguished Membership is the highest recognition the Society may confer, second only to the title ASCE President. It is reserved for members of the Society who have attained the grade of Member or Fellow and who demonstrate acknowledged eminence in some branch of engineering or in its related arts and sciences.

Dr. Breen was honored for seminal research contributions in the areas of reinforced and post-tensioned concrete bridge design, for leadership in development of code provisions for loads and reinforced concrete, and for a career dedicated to educating and mentoring generations of structural engineers.
The Distinguished Members Class of 2011 was formally inducted during the 141st Annual Civil Engineering Conference in Memphis, Tennessee on October 20, 2011. Since 1852, only 615 individuals have been elected to Distinguished Membership.
To learn more about the individuals in the Distiguished Members Class of 2011, visit the ASCE Distinguished Members Annual Induction Ceremony.