UT Austin Structural Engineering Graduate Students Scott McCord, Vasilis Samaras, Hamel Patel, Kostas Belivanis, Federico Aguayo, Candice Kou, James Felan, and Trey Dondrea, win the National Competition of the PCI 2012 Big Beam Contest. Two more teams from UT Austin placed second and third in the regional level competition (Zone 2). A full list of the winners, including those from each zone, was given by PCI.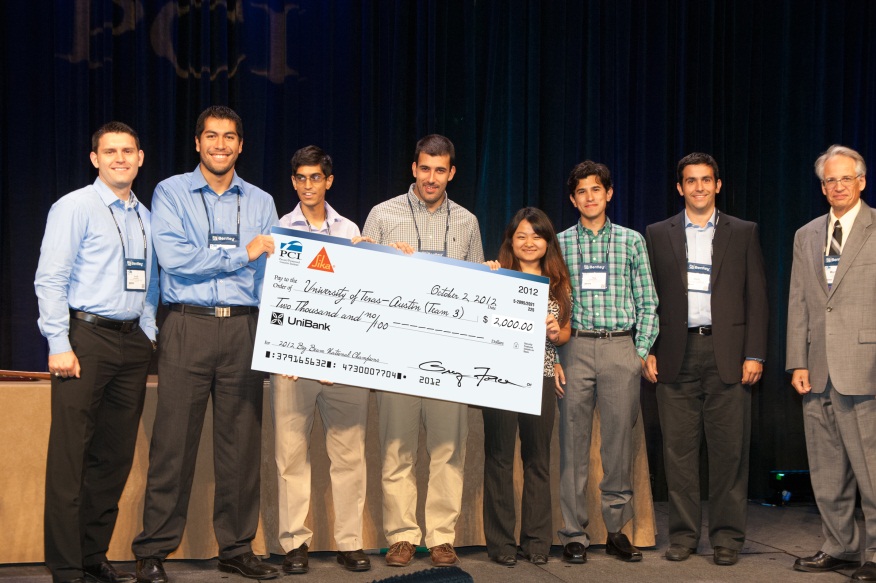 The Big Beam Contest is organized by Precast/Prestressed Concrete Institute's (PCI) Student Education Committee, and sponsored by Sika Corp. The contest consists of a zone competition and a national competition. First place winners of each zone, along with the winner of the international entries (i.e. Zone 7) move on to the national competition to be judged against one another and to determine the national champion. This competition requires a team of students to design, analyze, fabricate and test a precast, prestressed concrete beam under the guidance of local PCI producer members. Prizes are awarded based on the most efficient design, highest load capacity, and best report, among multiple categories.
Dr. Michael Brown served as the Faculty Advisor for the UT students involved in the contest, while Nick Faerber from Coreslab Structures Inc. Cedar Park, Tex. was the representative of PCI producer. A complete list of the UT Austin winners is given below.
University of Texas - Austin (Team 3)
National Competition - 1st Place
Zone 2 Competition - 1st Place
Student Team: Scott McCord, Vasilis Samaras, Hamel Patel, Kostas Belivanis, Federico Aguayo, Candice Kou, James Felan, and Trey Dondrea
University of Texas - Austin (Team 1)
Zone 2 Competition - 2nd Place
Student Team: Alissa Neuhausen, Samuel Gold, Lindsay Hull, Jeff Krummel, Daryl Barone, Nick Dassow, Whitney Lee, Jose Zuniga
University of Texas - Austin (Team 2)
Zone 2 Competition - 3rd Place
Student Team: William Shekarchi, Evan Reschreiter, Mitchell Dornak, Phu Nguyen, Eugene Polenclo, Reid Markus, Ariel Creagh, Omid Razars